Bookmark Sorter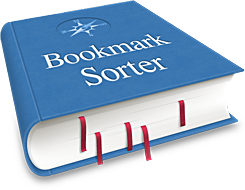 Would you like to
sort your Safari® bookmarks in alphabetical order,
place your bookmark folders at the top of the bookmark list,
rename bookmarks that have the same name,
remove duplicate bookmarks;
while
keeping the order of your buttons in the bookmarks bar as is,
and not having to quit Safari before sorting?
Automatically
Bookmark Sorter can automatically keep your bookmarks sorted according to your preferences. Sounds good?
Then Bookmark Sorter is for you too!
"I grew tired of not having an easy way to sort my Safari bookmarks, and so I felt I had to build an application that suited my own needs. I did not want to quit Safari and manually re-sort my bookmarks everytime I added a new one. I wanted this feature to be taken care of for me, automatically, withouth me noticing it. I wanted a set-and-forget preference.
I have been using the application for a while now, and it has been a treat. Today I invite others to also enjoy the feeling of actually finding what you are looking for among your Safari bookmarks."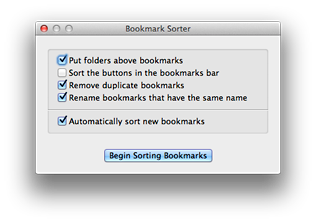 Want to be a beta-tester?
Every now and then I'll need help to test out new features for this app. If you would like to beta-test Bookmark Sorter then please get in touch.
Having trouble?
If you are having trouble with Bookmark Sorter then please contact me.
It's a Service
Bookmark Sorter will be ready for sorting right from within Safari1.
Simply open the Safari-menu, go down to "Services" and select "Sort Bookmarks." Bookmark Sorter will ask how you would like to have your bookmarks sorted, and then sort them for you. You will have alphabetically sorted bookmarks in just three clicks.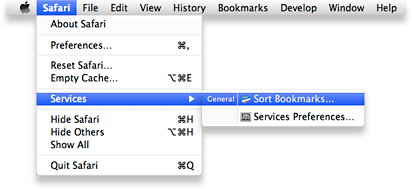 1. Safari's services menu will be updated the next time you log in to your OS X user account.
It's an App
Since Bookmark Sorter is a regular application you can manage it as you do any of your applications. If for example your preferred way of starting an application is through the dock, then Bookmark Sorter will happily live in the dock for you.

Did you say automatically?
Yes. Bookmark Sorter can keep your bookmarks automatically sorted for you. You will never have to manually sort your Safari bookmarks again.
As soon as a new bookmark has been added to Safari the list will be automatically re-sorted according to your selected preferences.
It's fast
Whether you run Bookmark Sorter as a service, as a regular application or have set it to run automatically, it will sort your bookmarks alphabetically in a blink of an eye.
You can always back out
The first time you sort your bookmarks with Bookmark Sorter it saves a backup of your current bookmarks and their sort order. You may therefore, at any time you choose, go back to your original bookmarks, and sort order, simply by selecting "Restore Initial Backup" in the "Backup" menu.

Optimized for Mountain Lion®, Lion® and Snow Leopard®
Bookmark Sorter has been built and optimized for OS X 10.6 and newer systems such as Snow Leopard, Lion, Mountain Lion and iCloud.
or